Weather Policy
Some may be wondering about the potential of cancelling a Pup Running meet due to weather conditions. If there is lightening, Pup Running must wait for a required period of 30 minutes (without lightning) before the meet can begin.
If the meet has not yet started 30 minutes after the posted start time due to lightning, then the meet will be cancelled. In the event a meet is cancelled, it will not be rescheduled.
Therefore, if lightning strikes any time after the posted 5:30 p.m. start time, then the meet will be cancelled. If there is NO lightning during the 30-minute delay (just rain), the meet will likely take place, unless it is a heavy, persistent rain storm. Safety for all is the utmost concern.
Note: Pup Running officials do not have computer access when at the course and will not be able to post real-time cancellation notices to the website.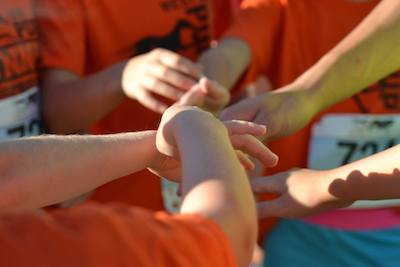 School Specific Information (Fall XC 2021)
Carmel Elementary
Practices Tuesdays and Thursdays immediately after school (8/31, 9/2, 9/7, 9/16, 9/23)
Cherry Tree Elementary
Practices immediately after school until 3:40 (8/31, 9/2, 9/7, 9/9, 9/16, 9/23) and party on 9/30
Clay Center Elementary
To Be Announced
College Wood Elementary
Practices Thursday immeidately after school until 3:30 (9/2, 9/9, 9/16, 9/23)
Forest Dale Elementary
Practices immediately after school (8/30, 9/9, 9/13, 9/20, 9/27)
Mohawk Trails Elementary
Practices Mondays and Wednesdays immediately after school until 3:30 (8/30, 9/1, 9/8, 9/13, 9/15, 9/20, 9/22, 9/27)
Prairie Trace Elementary
Practices Tuesdays and Fridays immediately after school until 3:45 (8/31, 9/3, 9/7, 9/10, 9/17, 9/24)
Smoky Row Elementary
Practices immediately after school (8/31, 9/2, 9/7, 9/9, 9/16, 9/23, 9/30)
Towne Meadow Elementary
Practices immediately after school until 3:25 (8/31, 9/2, 9/7, 9/9, 9/16, 9/23)
West Clay Elementary
Practices immediately after school until 3:30 (9/2, 9/9, 9/16, 9/23)
Woodbrook Elementary
Practices immediately after school until 3:30 (8/31, 9/2, 9/7, 9/9, 9/16, 9/23)